SOLD:Fender Strat -62 Sherwood Green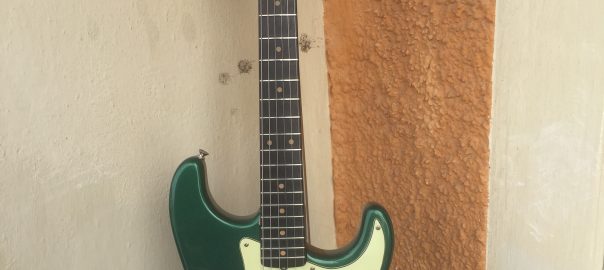 Vintage 1962 slab board Fender Stratocaster
For sale is a beautiful Sherwood Green (slab board) Stratocaster that plays and sounds better than any vintage Strat in the shop The guitar has an old, exact Fender spec, factory quality, Sherwood Green refinish, one replacement pot, which was wired so the tone works in the bridge position, and is missing one tremolo spring. The "slab" neck may have been refretted, hard to tell. Everything else is 100% original and really clean. The finish shows some minor checking and very minor dings here and there but easily a 9.5 condition. It guitar comes with its clean original brown case.
The serial number is 70236.
The guitar weighs in at 7 lbs., 10.4 oz.
The neck pickup rates at 5.80.
The middle pickup rates at 5.78.
The bridge pickup rates at 6.58.